In-situ polymerisation opens up great opportunities in the production of fibre-reinforced plastic components with a thermoplastic polyamide matrix. Based on dry reinforcement textiles, polymerisation and moulding are combined, enabling particularly efficient and automated processes in series production, for example, in lightweight automotive engineering.
The decisive factor for processing efficiency and product quality is the reactive unit developed by ENGEL specifically for the preparation and injection of ε Caprolactam. ENGEL has systematically further optimised its solution with a new, smaller size.
Now offering two sizes, ENGEL covers an even wider range of applications and supports its customers from product and process development, through scale-up to series production.
The new smaller reactive unit can handle matrix volumes between 10 and 600 cm³, offering great flexibility, especially for testing facilities, in the production of test parts, specimens and parts up to a weight of 1.5 kilograms.
The second, larger unit can process matrix volumes of up to 1500 cm³. Both units are very compact. They integrate the complete media supply and reduce the footprint required for the entire system.
In in-situ polymerisation, the thermoplastic RTM process, pre-shaped dry fibre preforms are infiltrated directly in the mould cavity with the reactive matrix. Thanks to ε Caprolactam's low viscosity in molten state, the dry fibres can be wetted particularly well.
Compared to duroplastic RTM, longer flow paths and a higher fibre content are possible. When the ε Caprolactam is polymerised to create polyamide 6, a composite with particularly high load-bearing capacity is formed that can be functionalised by injection moulding immediately after manufacture in the same process.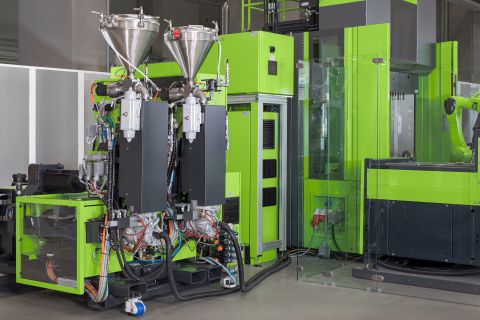 ENGEL's solution for in-situ polymerisation for the production of fibre-reinforced thermoplastic components is characterised by particularly compact system technology.
Gentle preparation of material
Servo-electric injection pistons are a proven solution for injecting the reactive components. They support particularly precise adjustment of the injection volume and absolutely synchronous injection of the two components. The recirculation common in reactive systems is deliberately avoided. The volume of monomer melted is limited to what can be processed directly. The reactive components have a particularly short residence time in the system and are not prone to residence time scatter. This in turn prevents thermal damage to the material.
A further benefit of ENGEL's system comes into play in testing and technology centre operations with frequent recipe and batch changes: the residual material can be quickly removed from the system without the system needing to be flushed.
The magnetically coupled screw conveyors for feeding the solid reactive components are a new feature. They ensure reliable and process-assured feeding of the solids. The magnetic couplings are contact-free and provide a wear-free sealing to ensure that the entire material feed is evacuated.
Within the user-defined limits, the solids are continuously dosed and plasticised using an approach that is largely independent of the injection process. Up to the moment when the material is fed in, storage and conveying of the solids remain strictly separated thermally and spatially from the melting zone underneath. The vacuum above the molten material is maintained even when topping up the storage hoppers material, and this further boosts both process stability and product quality.
Compatible with all ENGEL injection moulding machines
Both sizes of the ENGEL reactive unit can be combined with ENGEL injection moulding machines from all series. A retrofitting option is available for injection moulding machines with the CC300 control unit. Complete control integration ensures that the entire process can be managed centrally on the machine display. Optionally, the reactive unit can be operated as a stand-alone system with its own CC300 control unit.
The range of applications for in-situ polymerisation extends from small parts with thin wall thicknesses through to large, highly stressed structural elements in lightweight automotive engineering, automotive electronics, technical moulding and sports equipment manufacturing.
When overmoulding metal inserts or cables in very small structures, in-situ polymerisation can offer advantages over other processes – even without fibre reinforcement.