The Pharmapack 2020 exhibition held on February 5 and 6 at the Porte De Versailles in Paris has shown some of the latest trends of the pharmaceutical packaging industry.
According to statistics of GlobalData, the pharmaceutical packaging market is estimated to reach US$112 billion in value by 2026. Meanwhile, the medical polymer market is expected to grow at a compound annual rate of 8.4% through 2020, said Grand View Research.
Thanks to technological advancement, projects based on Industry 4.0 and blockchain technology have been initiated along the pharmaceutical supply chain, making it easier to trace medical products, prevent problems and enable predictive analytics.
Individualized and specialized packaging solutions enabled by new technologies are also gaining attention, as they address important issues like patience adherence, child safety, patient-centricity, authenticity and proper use of medical products.
Traceability and connectivity
Pharmaceutical traceability has been put at the forefront of the agenda of global regulators in the recent years. In addition to improving the operations and logistics of the supply chain, the track and trace systems help to fight against counterfeited / falsified drugs.
In Europe, the anti-counterfeiting measure – Falsified Medicines Directive (FMD), has been effective since February 2019. Specific safety features are required on the packaging of all medical products, leading to the rise in demand for anti-tampering technology and unique tracking IDs in the design of pharmaceutical package.
Correspondingly, the US Drug Supply Chain Security Act (DSCSA) has been introduced in the US in 2014, which requires the inclusion of lot number, expiry date and standardized numerical identifier on drug product packaging.
Today, technology is shaping the relationship between patients, healthcare providers, and the health system. As patient-centricity continues to gain importance, digitalization in the pharmaceutical industry can improve the results. For instance, big data collection enabled by wearable devices and smart drug delivery devices are expected to transform the industry.
In addition, self-administration is a strong trend which fuels the device and packaging development as more patients are administering their medication at home, especially patients of chronic diseases. More and more intelligent drug delivery solutions have been developed to meet this trend.
One of the examples is a connected smart device for metered-dose inhalers (MDI) launched by drug delivery systems provider Aptar Pharma.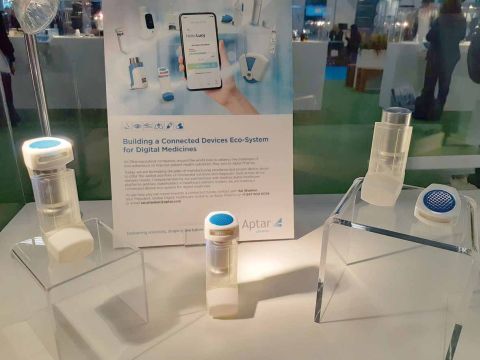 The connected device of Aptar Pharma.
It is estimated that nearly 45% of patients do not adhere to their therapy, including the filling and refilling of prescriptions or maintaining the prescribed medication schedule. This new device, ADHERO, is designed to help patients conform to the routine.

ADHERO is a bluetooth-enabled, reusable smart device that attaches to the top of an MDI. With built-in sensors, the device tracks the patient's daily medication usage and consumption patterns.
Patient can access information by connecting the device to the app on the smartphone. The app is also equipped to send reminders, provide alerts and enable visual analytics. Patient can also grant the physician access to the information and medical tracking data.
Meanwhile, Bormioli Pharma, an Italian pharma primary packaging manufacturer, offers several innovative prototypes that address the needs in the industry.
One of its highlights at Pharmapack 2020 was a marking technology -- ultra fast pulse laser direct writing, which supplies complex information all along the drug's journey.
The laser marking process will allow modifying the structure of transparent and semi-transparent elements with a high accuracy, marking the drug container with a unique code and providing complex information throughout the supply chain.
Using this laser technology, the marking is completely buried into materials volume and not only on its surface. The technology takes advantage of the whole volume of the container – both in glass or plastic – allowing the creation of a 3D complex code that can be compliant with the regulatory constrain. It can also hide more complex codes and anti-counterfeiting marks.
To enable people to take control of their health, Bormioli Pharma also introduced the Smart Shaking Cap prototype. The prototype, applied to the already-existing dual-chamber AccuRec product, allows the end user to control the proper and effective reconstitution of the ingredients.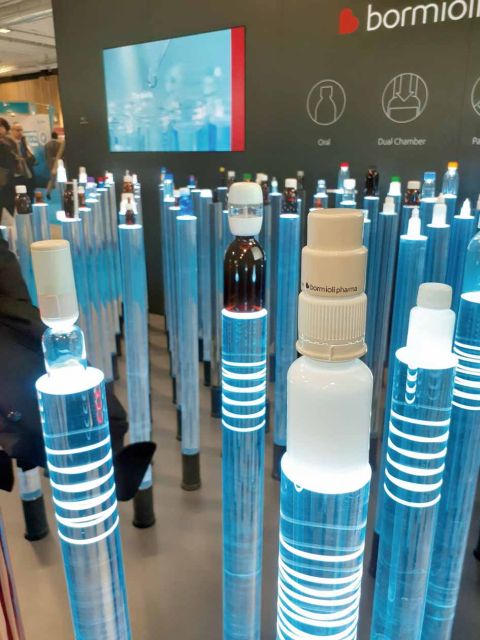 Bormioli Pharma presented prototypes for addressing the needs of the pharmaceutical packaging.
During the shaking, the upper part of the cap lights up to become green once the drug is blended properly. Moreover, the process can be monitored through a dedicated app on a smartphone, showing when the drug is ready to use.
Increasing demand for improved quality
Another trend impacting the pharmaceutical packaging industry has been the increasing demands for "perfect packaging" that guarantees the integrity of the drug, as zero-defect production has become a goal of pharmaceutical companies.
In view of this, material selection plays an important part in terms of quality. Apart from glass, polymers are gaining more interest today for some drugs due to their physical stability and the design possibilities.
Some material suppliers are developing new solutions help meet demands of some drug products, especially during the filling processes and administration.
Trinseo, a global materials solutions provider and manufacturer of plastics, latex binders and synthetic rubber, unveiled a new wear resistant, high lubricity polycarbonate (PC), which is designed for drug delivery devices and surgical tools, at Pharmapack 2020.
Part of Trinseo's CALIBRE Polycarbonate Resins series, the new material platform provides a solution for the low friction movement of one material over another, extending product life and minimizing noise without external lubricants.
As introduced, CALIBRE Polycarbonate Resins offer a good blend of clarity, heat resistance, and impact resistance. They are produced using a proprietary production process to give the material very high ductility and toughness over a wide temperature range.
Beside this latest innovation, Trinseo showcased its EMERGE 9000 product portfolio as well. This product range is used extensively in diagnostic equipment housings to resist the aggressive cleansers and disinfectants used by healthcare professionals to fight healthcare associated infections (HAIs), which remain a growing concern.
Sustainability in mind and action
Nowadays, as consumers are more concerned about plastics waste and pollution, they increasingly expect their favorite brands to practise sustainable packaging. Industry players must keep abreast of consumers' preference in order to win their loyalty.
The pharmaceutical industry traditionally relies on single-use non-biodegradable plastics, but new solutions, such as bio-based PET packaging, are being explored. It is believed that bio-based solutions can perform as well as other packaging solutions. They can be processed on existing filling lines and can be recycled. In some cases, they can even prolong the product's shelf life due to a higher water barrier property.
However, pharmaceutical companies need to observe a number of regulations that serve to ensure drug safety and quality, and therefore, it may take longer than the other sectors to switch to new types of packaging, e.g. recycled packaging. Having said that, a number of pharmaceutical packaging companies have recently launched their new sustainable packaging solutions.
Sana Packaging, a startup that designs and develops cannabis packaging for a circular economy, has released its second line of cannabis packaging made from reclaimed ocean plastic.
The Sana Ocean Screw-Top lids and glass jars are available in a number of colors and sizes. The lids are child-resistant and made from 100% reclaimed ocean plastic in partnership with Oceanworks.
In early 2019, Sana Packaging launched the Sana Ocean Tubes. With the help of its customers, Sana Packaging has already removed more than 16 tons of plastic waste from the ocean.
In the meantime, to save resources, German packaging firm Gaplast has introduced what it calls "a new eco-innovative approach: ViscoRecycling", whereby a package uses 70% of re-granulate and 30% of new material in the outer layer.
With a team of researchers in the company to develop eco-friendly products, there will be more innovations in the future, for example, through the use of re-granulate, post-industrial recycling, redesign for less material and integrating bioplastics.
The reason behind for Gaplast to focus on sustainability is that it would be easier for bio-source products to get the approval from the FDA (US Food and Drug Administration) but not for other types of material, according to Alexander Keller, Head of Development & Construction, Design & Development Department at Gaplast.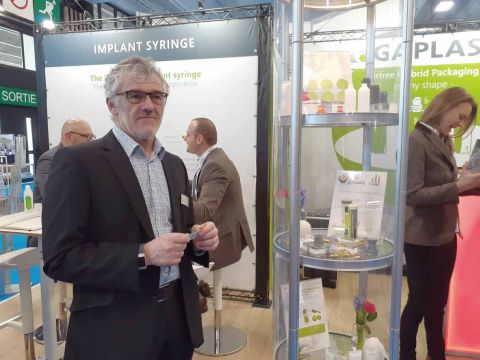 Alexander Keller, Head of Development & Construction, Design & Development Department at Gaplast.
Sanner GmbH, a German supplier of plastic packaging and components, presented its new Sanner BioBase effervescent tablet packaging for the first time at its booth.
Sanner BioBase consists of more than 90% bio-based material. The biopolymers used consist of various renewable raw materials such as corn, sugar cane or cellulose, which are converted into "green" ethanol.
A major advantage of bio-based plastic packaging is its essential independence from fossil raw material deposits and its reduced CO2 footprint. From a chemical point of view, Sanner BioBase is almost identical to PE and PP from fossil raw materials.
Sanner BioBase will be commercially available from the second quarter of 2020. Peik-Christian Witte, Director of R&D at Sanner, said the price of BioBase is currently about double that of conventional packaging.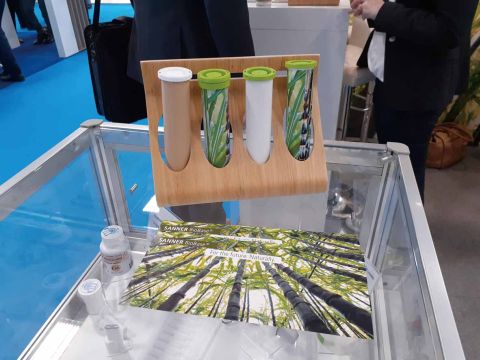 The biopolymers used for Sanner BioBase consist of renewable raw materials.
Witte pointed out that the newly-launched BioBase packaging will be produced in China. Customers from the US and Europe have expressed interest already, while China will also be a good market.
A new wave of personalized medicine
Personalized medicine is another new wave sweeping the industry., as more targeted therapies and new drugs are being developed, and they are often produced in small batches. . The pharmaceutical packaging industry must keep pace with the progress and provide solutions to adequately package and store the drug products.
For instance, Sensile Medical AG, a Swiss medical technology company, has introduced SenseCore micro pump technology.
With the technology, Sensile Medical ensures safe, simple, and precise administration of liquid drugs by the patient themselves at home or on the move. The injection aid is easy and discreet to use. T patient does not see the needle, making it suitable for all manners of applications.
Integrating primary packaging with delivery device
Integrating primary packaging and delivery devices in the early development stage is expected to increase. This is a trend towards connected drug-delivery devices or e-devices, such as insulin pumps used in diabetes treatment.
The European Medical Device Regulation (EU MDR) is scheduled to take effect in the EU member states from May 26, 2020. Under the regulation, all medical devices in the European market must carry a CE mark.
Products composed of any combination of ancillary drug, device, or biologically active product will be scrutinized under the EU MDR, such as insulin injector pens and metered dose inhalers. These devices form a part of the drug delivery system.
To comply with the new regulation, pharmaceutical manufacturers producing combination products need to liaise with a designated notified body to have the technical data of their products reviewed.