Precise control of hot runner systems is indispensable for molding high quality parts. Some leading manufacturers of hot runner systems have recently introduced their latest solutions with improved capabilities to guarantee accurate, reliable and user-friendly operation.

Integrated solutions for demanding planar components
HRSflow has introduced a variety of complex, high quality planar parts made from the combination of its hot runner systems and its expertise in the CAE simulation of injection molding processes. Examples range from a sizeable, thin-walled suitcase shell, a collapsible bath box to a laptop cover.
The company's solution for the thin-walled suitcase shell is a customized axial single-nozzle, in which a hydraulically operated hot runner needle valve nozzle serves as an extension of the machine nozzle.
Despite the long flow paths, this design ensures warp-free parts with high class surfaces, free of flow lines or visible weld lines. A brand emblem is clipped on to cover the gating point.
Besides, the nozzle enables, thanks to an optimized internal geometry with minimized dead spots, a fast color change between the 15 available shell colors.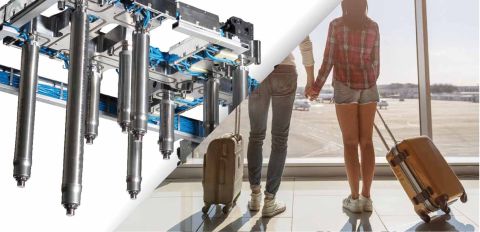 Tailor-made hot runner solutions enable the production of demanding planar components.
For the collapsible box used for bathing babies, to fill the cavities for the wall elements, use is made of a 10-drop hot runner system from HRSflow with valve gate nozzles of the Ma series, which are designed for medium shot weights.
A cascade control system ensures that all the differently sized parts are filled at the same time. The second operation comprises the injection of the flexible component into the long but tight cavities for the hinges. This is done using a 4-drop hot runner system with valve gate nozzles of the Pa series, which are designed for lower shot weights.
In the project phase, HRSflow optimized all the functions with the help of extensive CAE flow simulations. This has resulted in evenly filled 2K parts without visible weld lines or entrapped air.
The 1.5 mm thick laptop cover is produced by sequential injection molding using a 5-drop FLEXflow hot runner system with induction heating and cooling technology from Roctool. The two technologies make it possible for the part to satisfy high demands in terms of appearance and functionality.
A visible surface combining high gloss and matte areas is produced in a single shot with a cost-efficient cycle time of around 50 seconds and a minimum of production scrap.
The individual valve pins of the hot runner system can be controlled independently of one another with regard to their position, velocity and acceleration. This means that users can individually control the pressures and flow rates during the entire mold-filling process at every individual gate.
Ready-to-go systems for reliable and user-friendly operation
For the launch of the European market, INCOE has presented the new SealFit Hot Halves, enhancing the concept of supplying ready-made modules and following a request from the multi-cavity market.
A SealFit Hot Half includes a ready-to-go pre-assembled hot runner system with SealFit nozzles which has been installed and fully adjusted inside the related mold plates.
So it represents a ready-made and tested pre-stage to complete half of a hot runner mold consisting of perfectly matched components, saving time and effort for the mold maker and increasing reliability during operation for the injection molder.
Reduction of time and effort needed for project planning and management, design, manufacturing and assembly, a simplified start of production and increased production reliability are the main benefits of using Hot Halves.
Furthermore, production reliability is increased by the SealFit concept with all nozzles being screwed into the manifold producing a leak-proof connection between nozzles and manifold and resulting in a reliable alignment between the flow channels of the manifold and the nozzles irrespective of the material and the process.
Due to the nozzles being screwed into the manifold there is no need to have nozzle heads sitting in special pockets that need to be machined on very tight tolerances into the mold plate. All work to achieve a leak-proof connection of all nozzles with the manifold by adjusting mold plates, nozzles heads and manifold in the mold is not needed.
Without the nozzle head, there is no contact between the nozzle and the mold at the interface between the nozzle and manifold. Therefore no heat can flow into the mold plate and no forces are applied to the mold plate. This leads to reduced consumption of energy by about 20%.
The risk of deforming the mold plate is reduced – even when the temperature is increased. Wear at guide pins and other centering elements due to the deformation of mold plates is also reduced.
The concept of supplying ready-to-go pre-assembled systems in "one piece" makes sure that maintenance and service are very user-friendly.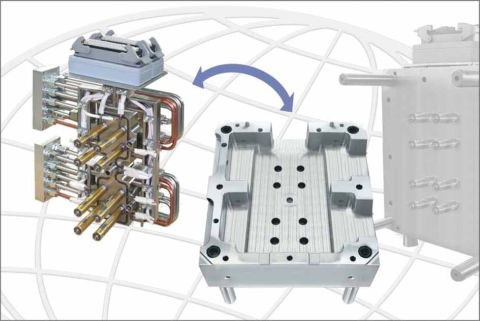 The hot runner system including the attached supply lines can be taken out of the SealFit Hot Half.
As far as possible all supply lines and connections are mounted to the hot runner system so the hot runner system can be completely taken out of the mold plate in one step. The associated effort for assembly and disassembly of supply lines in specially made grooves in the mold plates is not needed anymore.
Flexible multi-tip nozzle and smart control
EWIKON has launched its new HPS III-MV multi-tip nozzle for hot runner systems and EWIKON pro CONTROL range of hot runner controllers.
The new HPS III-MV nozzle has been designed for technical resins, reinforced materials and the production of small parts.
As a flexible standardized modular concept, it features different nozzle body diameters, tip insert sizes, nozzle lengths as well as configuration-specific flow channel diameters available, allowing an adaption to diverse application requirements.
Besides processing standard materials, the HPS III-MV nozzle allows the reliable processing of technical resins with narrow processing windows, as well as fiber-reinforced materials as used for electronic, technical and automotive parts.
These improvements are achieved thanks to a coil heater integrated into the pressure tube, which provides stable heating and an even temperature profile.
Another special feature is that the multi-tip nozzle allows the gating of small parts with close distances between cavities as well as the multi-point gating of single parts.
In addition, balanced and compact melt distribution, which already integrated into the nozzle, reduces the complexity of the main manifold system. Short total flow path lengths are even in high-cavitation molds.
For EWIKON pro CONTROL range, it allows comfortable, reliable and precise control of hot runner system up to 120 zones, along with intuitive and self-explanatory touch screen operation.
The quick control behavior makes pro CONTROL universally usable for standard applications as well as for demanding high-cavitation systems using slim and low-mass hot runner nozzles which are difficult to control.
Furthermore, all controllers feature integrated communication interfaces for easy connection to the injection molding machine and comprehensive support and error detection functions.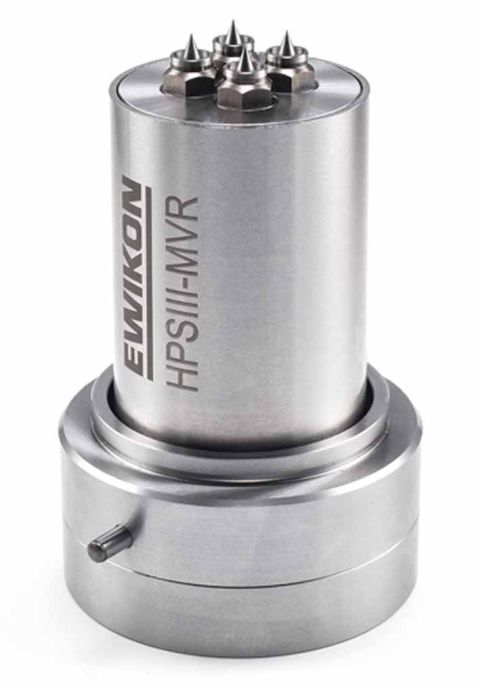 The new HPS III-MV nozzle.
For the control of systems with 6 - 36 control zones the controllers come with compact table top housings in three sizes with swivel-mounted 7" touch screen display or externally mountable 15" touch screen display.
For high-cavitation systems with up to 120 control zones, a tower housing with a 10'' touch screen display or a 19'' touch screen monitor is available.
Electric actuation for large part applications
Synventive has announced the release of eGate 2.0, the latest addition to its activeGate control technologies. eGate delivers complete pin movement control for large part sequential valve gated applications.
This next generation eGate gives precision molders far greater options and delivers clean, quiet and energy-efficient operation that is responsive, precise and repeatable.
The eGate electric actuator bolts directly on the manifold for an easy install, offering compact footprint and small stack height.
Precise all electric control of each valve pin's position, speed, velocity and stroke is capable of delivering optimal cosmetics for class A surfaces, control balance and pack, warpage reduction, clamp force reduction, part weight reduction, greater application flexibility, and maintenance free motor.
eGate's new easy-to-use intuitive interface includes a simple drag and drop editor and offers varying levels of user control.