Today, challenges often arise as companies are looking for thermoforming products that show innovative design, ease of use and quality engineering. The Society of Plastics Engineers (SPE) Thermoforming Division Parts Competition awarded products that thrive on innovation to overcome these challenges.
SPE Thermoforming Division announced the winners of its latest parts competition during its annual conference. For the 2019 competition, the Division added two new categories, for parts that show sustainability and the use of recycled materials, and parts made with automation and new technology.
The winners for People's Choice Award and Gold Award from different categories are follows.
People's Choice Award
Plastics Unlimited, Preston, IA
Two-Sheet Glued Versatile Cab Roof
The versatile tractor cab roof houses many different steel inserts as well as other thermoformed parts glued internally.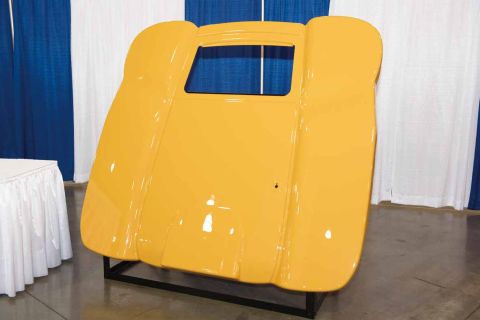 The roof top consists of two thermoformed parts that are glued together.
The roof top consists of two thermoformed parts that are glued together. The material on the outside is a color matched high gloss Class "A" acrylic capped ABS with a starting thickness of 0.156" and the bottom is a black acrylic capped haircell ABS starting thickness of 0.187".
The two-sheet glued design was a huge tooling cost savings over other processes like Long Fiber Injection (LFI), Sheet Molded Compound (SMC), injection molded, or twin sheet molded plastics. This part is formed from temperature controlled, single cavity production tooling.
Roll Fed Thin Gauge: Industrial
PLACON, Madison, WI
ORTHOFIX
The tray package was designed to securely hold the two medical screws with HA (hydroxyapatite) coating in place until operating room usage.
The HA coating is on each screw, as this compound helps reduce the screw from backing out of the bone after implantation into the patent.
Once the screws are securely fastened into the retainer base, a retainer cover that goes over the tray and snaps into place to create a second secure barrier for the HA coated screws.
The tray and all packaging components are made using PETG material. This tray package design is composed of two parts (retainer tray and tray cover) that were designed and two pre-validated double sterile barrier trays that go inside each other and hold the newly designed tray and tray cover.
Roll Fed Thin Gauge: Food
LINDAR Corporation, Baxter, MN
Simply Secure Tamper Obvious Hinged Package
This package, formed from black/clear APET material, was designed for holding single-serve bakery items. The package design creates a freshness seal when closed to help ensure product freshness is maintained until customers consume the product.
The package design has a unique tapered closure from hinge to the front opening tab to display the mini bombs and dessert squares and to maximize space efficiencies to ship and/or display more mini bombs and dessert squares in less space.
Each package is also designed to receive a label that wraps around from the top of the package over the hinge area and onto the bottom of the package to accommodate USDA labeling requirements while still allowing retailers to build stable displays when stacked.
Roll Fed Thin Gauge: Recycled/Sustainable
CMI Plastics, Ayden, NC

Hoppe's Black Gun Cleaning Kit
The tray and lid feature a mix of firearm maintenance tools, totaling 15 different items. The kit is used to showcase the product in retail as well as at home. The benefits of the sturdy design include long-term product storage and enhanced shelf-presence.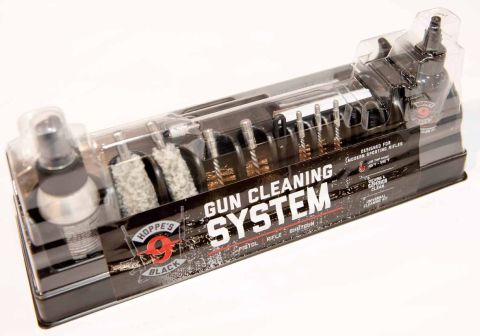 The tray is made with recycled ABS with a minimum of 70% recycled content.
The tray is made with recycled ABS with a starting gauge of .075". The ABS contained a minimum of 70% recycled content. The lid was made with recycled PETE with a starting gauge of .035". The PETE contained a minimum of 50% recycled content.
The lid design compliments the tray with a sleek and simple look. The lid system works with several product mixes and allows those products to be locked in with minimal move and rotation.
Cut Sheet Heavy Gauge: Vacuum Forming
Profile Plastics, Lake Bluff, IL
Neonatal Intensive Care Unit
This part, formed of cast acrylic sheet, was developed to achieve total clarity on all flat surfaces so that nursing staff can have unimpeded visibility of premature newborns.
To achieve the target price point, the part had to be molded in a rotary forming machine equipped with a quartz oven. A precisely "shaded" section was incorporated on the part to hide the unit's electronics and wiring. This was accomplished via distortion printing of each sheet of cast acrylic prior to forming.
Five-axis, close-tolerance, CNC trimming of the part was required to precisely fit with the numerous amounts of other, equally precise, mating parts.
Cut Sheet Heavy Gauge: Pressure Forming
Ray Products, Ontario, CA
Stratasys 3D Printer
This multi-part / multi process assembly provides highly aesthetic and repeatable enclosures for an industrial grade Stratasys F Series 3D printer. By manufacturing the unit with the pressure-forming process and using various molded in features and undercuts, only two bonded blocks are needed for this entire multi-part assembly.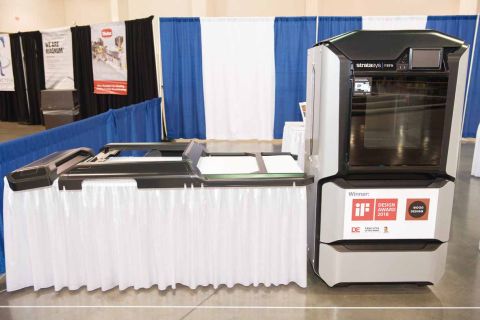 The multi-part assembly provides repeatable enclosures for Stratasys 3D printer.
As introduced, two large, deep undercuts into the drawers of the front of the housing was a significant challenge. A two-motion plug-assist was required to generate the double-undercut door handle and allow for even and consistent material distribution.
Ray Products used Kydex T color-matched PVC-acrylic materials and molded the parts on a Modern Machinery rotary pressure former. In addition, all parts are trimming on Shape Process Automation six-axis robot routers. Special resins were used for fixtures to eliminate scuffing and scratching.
Heavy Gauge: Twin Sheet
Profile Plastics, Lake Bluff, IL
Beverage Dispensing Equipment Lid
The lid, which is made using PETG clear sheet, was designed for a beverage dispenser that replaced a part for hot-plate welded two injection molded parts. Those parts failed due to crazing, and therefore, diminishing the parts' overall appearance and useful life.
The twin sheet process was selected to meet the part specifications of a 100% leak proof seal, high-temperature dishwasher safe, impact resistant and optical clarity.
Moreover, significant cost savings were achieved due to reduced part weight, improved chemical resistance, and eliminating the secondary bonding operation.
Cut Sheet Heavy Gauge: TPO
Kal Plastics, Vernon, CA
Cab-Over Front Cap
The vacuum formed TPO truck camper was developed to replace fiberglass. The move to plastic was made to reduce costly field repairs/warranty claims on the fiberglass predecessor and to reduce the overall weight of the camper to achieve better fuel efficiency.
To aide in the construction of the finished tool, it was decided to make the mold in two cast aluminum sections; a left and a right. In such a large part two castings allowed flexibility to work out any imperfections in the finished mold.
Another feature was the placement of thermal cooling system and the bracing of the mold. Void materials were added to decrease interior volume of the mold to aide in crisper detail, and better performance, when forming.
Cut Sheet Heavy Gauge: Parts Produced with Automation and New Technology
Wilbert Plastics, White Bear Lake, MN
Medical Assembly MRI
The medical equipment enclosure is thermoformed, robotically trimmed, and then assembled using vision systems and augmented work instructions to ensure a complete and correct assembly.
The assembly has 88 components and 28 steps prior to shipment. Assembly operators are guided by augmented work instructions which are projected on the main component part surface showing/describing assembly steps, component part numbers and locations.
Multiple vision systems are used to ensure the correct components are used at each step in the assembly process and that each is in the proper location.