Feeders are used to dose additives and materials into the primary machine in plastics processing. As the higher requirements of modern and recycled plastics complicate the process, new sophisticated feeding systems aim to increase production efficiency by accurately metering and dosing at the machine feed throat.
Multi-ingredient system automates premix production
The compounding production trends are shrinking batch sizes, frequent product changes, and the multitudes of formulations and components associated with them, driving compounders to adopt automation with a high degree of safety.
Coperion's latest ADD-A-LOT multi-ingredient handling system enables fully automated recipe preparation that fulfills high demands for constant product quality, seamless documentation and batch traceability.
The ADD-A-LOT's central element is its feeding station with standardized storage containers (Intermediate Bulk Containers, IBCs), feeding unit and mixing container.
The system controls transport of centrally stored components in both directions as well as precise feeding and mixing of additives, even in minute quantities. Use of mobile containers provides additional flexibility.
Within the system, barcode identification of the IBCs enables proper correlation during filling, whether from sacks, big bags, barrels or even pneumatically executed, so that recipes and feeding constantly comply with specifications.
During operation, the IBCs are docked on the upper level of the feeding station and automatically opened. Feed screws then convey the raw materials to the mixing container according to the recipe in use. Up to eight feed screws can be assigned to one scale in this process.
In order to safely prevent cross contamination during recipe changes, the unclean feed screw can be removed with just a few hand movements and replaced with a clean screw. IBCs and mixing containers can be manually or automatically transported using an automated guided vehicle or via roller conveyors.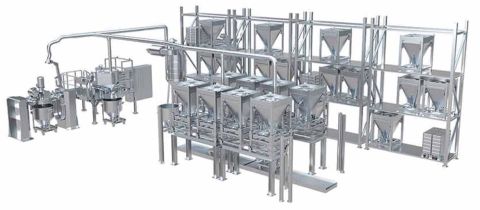 The ADD-A-LOT system encompasses transport of centrally stored components in both directions.
Thanks to its modular construction, the ADD-A-LOT multi-ingredient handling system can be expanded and modified as desired to meet specific customer needs. Such flexibility empowers users to react quickly to changing demands upon formulation and batch size.
Expand capacity for larger-throughput applications
Maguire Products, Inc. has introduced worldwide a new series of gravimetric blenders for larger-throughput applications precisely dispenses up to 12 materials of widely diverse types.
Each ingredient hopper has a dispensing device designed for a material in a specific form. The applicable material types include pellets, powders, liquids, poorly flowing ingredients like regrind, flake, wood flour and talc filler, etc.
The blenders can be configured to dose up to six major ingredients, including virgin polymer, regrind, and post-consumer resin.
The new Weigh Scale Blender (WSB) 1200 Series has a throughput range of 900 to 2,040 kg/hr (2,000 to 4,500 lb/hr) and is suitable for extrusion, high volume injection and blow molding, and central blending applications.
The series is the latest addition to Maguire's WSB product range, which already includes over 120 models with throughputs ranging from 40 to 5,500 kg/hr (90 to 12,125 lb/hr).
Like the larger units in the WSB-2400 and WSB-3000 series, the new blenders can be outfitted with up to six large-component slide gates for dispensing major ingredients, along with any combination of large corner valves, 4-inch vertical valves, 2-inch vertical valves, auger feeders, and liquid color pumps.
By providing the same capability as the WSB-2400 and WSB-3000 series units for dispensing up to six large-component ingredients, the WSB-1200 Series blenders enable processors to meet growing demand for products that incorporate regrind and post-consumer resin along with virgin resin.
Highly accurate to meet micro-molding requirements
The new patented LIAD Smart ColorSave – Micro feeder from Ampacet is claimed as the industry-first gravimetric feeder developed for the micro molding segment, eliminating manual mixing and making calibration easy.
The easy-to-clean feeder enables accurate dosing down to one pellet, and is suitable for medical micro molding applications in clean room conditions as well as other applications requiring precise continuous delivery of very small quantities of additives or colors.
It uses a single vibrational, protected inner channel to eliminate exterior vibration and consistently deliver an accurate dose.
Whether for more efficient production of small parts or to reduce material costs for extruded parts, the ColorSave-Micro can accurately dispense materials with LDRs as low as 0.1% to 0.3%. Gravimetric weighing ensures consistent accuracy when compared to volumetric micro feeders.
The ColorSave-Micro can be used for nearly all types of additives, including flowable, non-dusty powders and granules as well as micro pellets. It handles low feed rates and can be easily cleaned between jobs.
Special feeder designed for recycled materials
Brabender Technologie has a solution for feeding specially designed to tackle recycling tasks, as recycled fibers snag mechanically on product bridges don't reach feed screws.
The FiberXpert FX50 fiber feeder was specially developed for feeding recycled materials like carbon and natural fibers, recycled PP and PET bottle flakes, shredded plastics, carpet residues, and other fiber products like cellulose, acrylic, aramid, polyamide, polymer, polyester and PPS fibers.
Long, unevenly cut and non-flow-capable fibers can be fed reliably with the aid of a special fiber screw, steep-walled hopper with large inflow cross-section, and special agitator geometry and positioning.
Potential applications for the FiberXpert include mixing in strengtheners and fillers during compounding as well as biopolymers, recycling plastics and fibers in building materials and in the production of films, where offcuts or waste from the startup process are recovered.