More materials are customized and developed for the purpose of 3D printing (additive manufacturing) process. LSR has a wide temperature range and high chemical resistance, and thus has been used for 3D printing in recent years. As 3D printing is used more in manufacturing to satisfy higher user requirements, LSR 3D printing is expected to be increasingly adopted.

Thanks to rapid technical developments, the next generation of LSR 3D printing technology allows more complex design options and precise production, whilst owning ultra-high mechanical performance comparable with those of molded LSR components.

A key player in customized footwear

QUANT-U is an experimental footwear customization project by the Innovation Lab (ILE), ECCO's independent cross-disciplinary design studio.

This first-of-its-kind service combines customers' individual biomechanical data, SILASTIC 3D 3335 LSR from Dow and 3D printing to produce silicone midsoles customized to the wearers' foot shapes and natural movements. The entire process takes place in-store and takes less than an hour to complete.

The specially formulated SILASTIC 3D 3335 LSR combines the performance benefits of silicone elastomers with the design and processing advantages of liquid 3D printing. It is one of the latest additions to Dow's growing IMAGIN3D printing technology portfolio, and has a low viscosity for smooth printing and a unique rheology for high resolution and accuracy.

In ECCO's customized shoe midsoles, the exceptional elasticity and recovery of SILASTIC 3D 3335 LSR optimize energy return, cushioning and foot stability.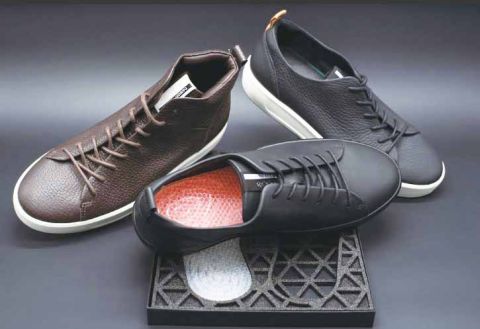 The midsoles are odor-free and do not contribute to bacterial growth. They are water-repellent, yet breathable; are extremely durable; are machine washable; and have a long service life, even in adverse environments.

Suitable for the production of highly customized parts and "made-for-me" products like ECCO's QUANT-U silicone midsoles, SILASTIC 3D 3335 LSR also excels in fast-prototyping applications and small manufacturing trials of complex parts.

Insert reduces weight of prosthetic foot

The German company stamos + braun prothesenwerk gmbh is a pioneer in printing heat cured high consistency biomedical grade silicone rubbers with a 3D-printer. It uses silicone to produce complex and customized silicone parts for finger, hand, partial hand, toe, and foot prostheses.

Recently, a high-temperature vulcanizing solid silicone rubber prosthetic foot was enhanced with a soft, fast printing 3D printed UV-curing LSR lattice structure inlay for improved comfort.

The prosthesis is said to be easy to reproduce and can weigh up to 70% less compared to non-latticed silicone gel previously used.

In order to come as close as possible to the original colors of the patient, stamos + braun is working on a solution to print the prosthesis in full color. The company is in cooperation with the Technische Universität Dresden in a joint project and supported by the program "Europe promotes Saxony".

According to the company, the use of heat cured high consistency silicone 3D-printing technology will not be restricted to the medical field. It can also be used in the automotive and aerospace industries or in the field of make-up artists.

The goal now is to optimize the lattice structures for more stiffness and more flexibility. Silicone foot, hand, and partial hand prostheses will be printed in 3D out of biomedical grade silicone in full color.

Another next step will be optimizing the dual printing of synthetic material combined with biomedical grade silicon. Once this is optimized, it will be possible to print a light bone structure with joints together with the silicone cover in one step.

New printer unlocks fascinating potential

Munich-based chemicals group WACKER caused a sensation at last K show with its first 3D printer for silicone elastomers. Since then, the company has continued advancing this technology.

At the forthcoming K 2019, WACKER will be unveiling a newly developed version of its pioneering ACEO 3D printing technology with silicone rubber, and is thereby setting new benchmarks.

The new ACEO Imagine Series K2 printer features numerous technical improvements and new software, allowing 3D objects to be reproduced even more precisely and with extremely high dimensional accuracy.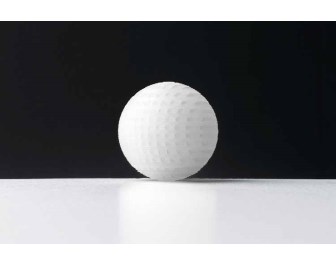 With its multiple printing nozzles, the new printer can print up to four different silicone materials simultaneously, allowing entirely novel designs to be realized. For example, 3D objects can now be printed in different colors or with different degrees of hardness.

The new technology also benefits the printing of hollow objects, which require support material. For such cases, up to three different materials and colors are available. Such multi-material printed objects are increasingly finding use in healthcare applications.

For example, tumors or diseased blood vessels that have been scanned using imaging methods can now be distinguished in color and copied extremely realistically in different hardness.

Another highlight of the new generation is its auto control technology. The printer measures the silicone layer applied after each printed layer and subsequently compares it with the target value specified in the CAD model. If the program detects any discrepancies, they are automatically corrected with the next layers.

In this way, the printer produces extremely precise and detailed 3D prints, which are even suitable for difficult industrial applications.