At K 2019, Chen Hsong introduced the new SUPERMASTER SPARK series to visitors at its booth. It is a series of all-electric injection molding machines with good looks and full of extraordinary quality and performance.

The SUPERMASTER 100-SPARK advanced injection molding machine combines a proprietary ultra-high-response servo system with very-high-speed advanced computer control, yielding no-compromise levels of responsiveness (from zero to 2000rpm in less than 30ms).

According to Chen Hsong, that is ten times faster than traditional all-electric machines (300ms) in the Chinese market. The 100-ton all-electric machine at the show was producing difficult food-grade LDPE closures.

Another highlight of the Hong Kong-based injection molding machine manufacturer is the high-performance MK6 series, which belongs to the premier product line.

The machine on display was equipped with an additional 2K (dual-material) injection unit, producing an 8mm-thick fruit bowl with virgin materials on the outside in a high-gloss finish and recycled materials sandwiched in the inside. The machine features high precision and high speed, in addition to energy saving.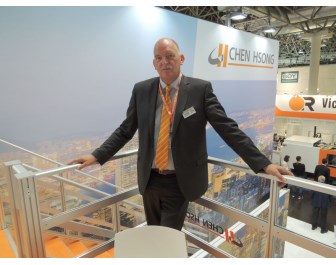 "For this year's K, it's very important to focus on recycling and energy saving. Therefore, we show machines which work with recycled materials and focus on the needs of customers," explained H.L.A. Corbey, General Manager at Chen Hsong Europe, in an interview with CPRJ.

The plastics processing machine market is facing headwinds at the moment, yet Chen Hsong takes it as an opportunity.

"Due to the competitive prices of our machines, even when the market is not going so well, we see it as an opportunity rather than a threat. For price, our machines are very attractive to customers," he underscored.

He also emphasized that the company's machines can be very flexible in features. At the same time, there are features of Industry 4.0, such as remote monitoring the production with smartphones.

Chen Hsong has just established a new German subsidiary, Chen Hsong Germany GmbH, to better serve the German market as a highly competent partner. It is a wholly-owned subsidiary of Chen Hsong Europe.

"The Chinese and European markets are quite similar in terms of market situations. What's happening in China is also happening in Europe, e.g. the slowdown of the automotive market," commented H.L.A. Corbey. "But I think there are still growth opportunities. There are a large number of machines in the market that need to be renewed."

Regarding the Chinese market, he believes there may be an issue of overcapacity, so it may not be bad to slow down a bit. He expects more Chinese companies will move into the European market.

"There's a lot of talk about competition, but I don't care as I know what we can do. We're flexible in meeting customers' needs, we can do turnkey, we also have warehouses and other local supporting services," he concluded.