Extrusion is one of the most important technologies for plastics processing. In recent years, Chinese and overseas extrusion equipment suppliers have "renovated" and optimized their technologies, upgrading the production of the extrusion products such as pellets, pipes and sheets to new level.
battenfeld-cincinnati
battenfeld-cincinnati is the technology leader in the extrusion industry. Their core competencies are outstanding technology, global project engineering, complete extrusion lines from a single source and strong design and production competence.
Gearless (GL) single screw extruder series with high-torque drive concept
The GL (gearless driving) series extruders adopt an alternative drive concept. They use frequency-controlled and high torque AC motors to drive the screws, and the screw and motor output shaft are aligned in a single line. Because the GL series extruders employ gearless driving, all the energy losses caused by the gear transmission system are eliminated.
Flexible co-extrusion solutions
The coEX-C series extruders are specially developed for the co-extrusion applications and feature a space-saving L-shaped drive system. Depending on the production and space requirements of the customers, they are mainly applied in color belt extrusion of PO pipes, extrusion of bonding layer and EVOH layer as well as post co-extrusion of flexible PVC, for example, profiled sealing strips, TPE film and hinges (for shutters).

Battenfeld-Cincinnati 's coEX 25-25-CL extrusion machine.
Coperion
Coperion is an industry leader in compounding and extrusion, feeding and weighing, bulk material handling and service, bringing a wealth of know-how and experience to the market.
ZSK Mc18 high-performance extruder
It has a high torque ratio of 18 Nm/cm3. It is used in the fields including continuous processing requiring high torque and product processing with limited torques (for example, blending of nylon and glass fiber, PBT and glass fiber, as well as glass fiber reinforced PP, etc.); mixing and dispersion of pigments and additives; reinforcement with glass and carbon fibers, removing volatile components; filling of talc powder, calcium carbonate and saw dust; plastic alloys; reactive extrusion; and chemical reactions such as polymerization, polycondensation and polyaddition, and direct extrusion, etc.
KraussMaffei
KraussMaffei is among the world's leading manufacturers of machinery and systems for the production and processing of plastics and rubber.
Pultrusion process
The pultrusion process improves the productivity and cost efficiency of straight and bent profiles. In the process, fibers (e.g. glass, coal, basalt, aramid fibers) are pulled off from a fiber rack and pulled across fiber guides through the injection box using an extractor device.
The metering machine heat-balances and mixes the matrix material (polyurethane, epoxy or polyamide systems) in a mixing head in optimal process technology conditions and conveys the mixture into the injection box. In the injection box, the fibers are saturated with an optimum level of highly reactive matrix materials at an inner pressure of 5 to 100 bar. Then, the final shaping and curing of the profile takes place in various heating zones within the mold (e.g. 100 to 250 °C).
JSW
As a leader in the industry, JSW provides a full line of injection molding machines, ranging from small to ultra- large models, which provide safety, easy operations and environment-friendly improvements with energy- and space-saving features.
Film and sheet machines
The JSW machines produce various films including those for general packaging, optical applications as well as energy-related products.
Compared with the traditional T-shaped dies, the "Hybrid T-shaped" die of JSW provides a better uniformity performance, shortens the residence time, and prevents resin degradation possibly caused by continuous operation.
Moreover, keeping the shear speed inside of manifold, it can prevent adhere degradated products.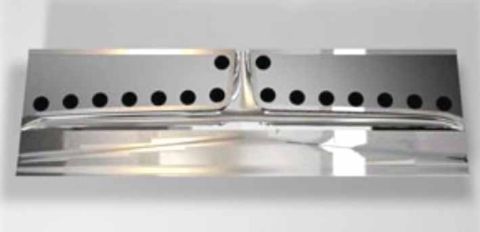 The "Hybrid T-shaped" die of JSW provides a better uniformity performance, shortens the residence time, and prevents resin degradation possibly caused by continuous operation.
TEX extruders
TEX extruders have wide applications including conventional inorganic fillers, masterbatches, polymer alloys, GF/CF compounds, reactions, de-oxidation, dehydration, biomass compounds, long fiber blending and supercritical carbon dioxide blending.
The JSW technologies and new solutions can significantly improve the blending performance, thus driving the customers to enter new application fields not possible for traditional machines.
Among them, TEX400+ (cylinder diameter: 443mm) is one of the largest twin-screw extruder in the world with a total length of 35m and a weight of 320 tons.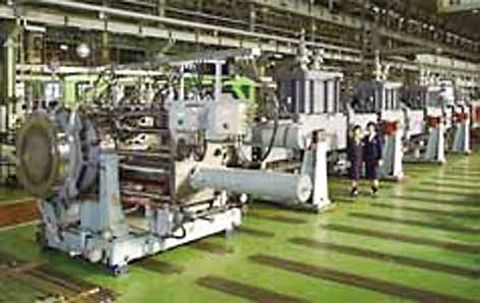 TEX400+ of JSW (cylinder diameter: 443mm) is one of the largest twin-screw extrusion machine in the world.
Kobe Steel
Founded in 1905, Kobe Steel, Ltd. is one of Japan's leading steelmakers, as well as a major supplier of aluminum and copper products.
HYPERKTX twin-screw extruder
HYPERKTX achieves a high productivity with VCMT (Various Clearance Mixing Technology) Rotor Segments, which are more suitable for high-speed, high-torque twin screw extruders, in addition to the conventional Kneading Disk for distribution mixing and Rotor Segments characterized by Kobe Steel's polymer mixing technology.
KY Solution Group
Founded in 1993, KY Solution Group is an expert in the production of co-rotation twin-screw extruders designed according to building block principle.
New co-rotation differential-speed twin-screw extruder
This machine is based on the patented technology by Prof. Xu Baiping of Guangdong Industry Polytechnic. This technology was appraised as one of the two major innovations in the field of plastics machinery equipment by Society of Plastics Engineers at ANTEC 2016. It improves the mixing effect by 20-30%, save energy by about 30% and can substitute the reciprocating extruders, continuous internal mixers, combinational machines of internal mixer + twin-screw + single screw.
Shanghai Jwell Machinery
Shanghai Jwell Machinery Co.,Ltd. as the vice president unit of CPMIA, is one of the largest manufacturers of plastic extrusion machinery in China.
TPU transparent films, hot melt films extrusion line
TPU (thermoplastic polyurethane) sheets are characterized by high tension, toughness and aging resistance, as well as being environmentally friendly, non-toxic, antibacterial, bio-compatible, etc.
The production line employs extrusion and roller calibration to produce sheets with thickness of 0.02-2mm and width of up to 1000-3000mm, including various transparent, color and composite sheets.