Toray Industries, Inc., announced that it has created a polyphenylene sulfide (PPS) film that maintains the outstanding dielectric characteristics—or low dielectric losses of electrical energy—flame retardancy, and chemical robustness of that polymer while remaining thermally resistant at 40°C higher than conventional counterparts.
The new film resists deformation and is dimensionally stable near its melting point. PPS is a super engineering plastic that also offers excellent electrical insulation. It is crystalline, with a melting point of 280°C.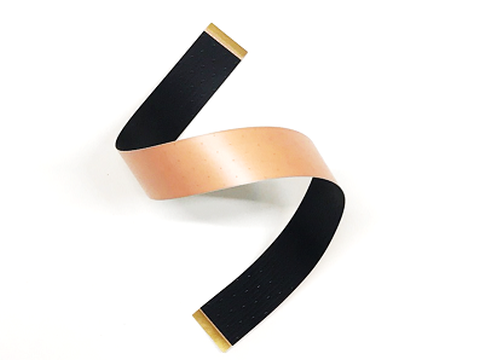 FPC cable employing Toray's new PPS film.
Employing the new film in flexible printed circuits offering 5G and other fast data rates would offer two key benefits. First, the film would cut the transmission losses of communication devices at high frequencies. Second, it would help stabilize high-speed communication across the temperature and humidity spectrums.
Flexible printed circuits are film-like wiring boards in which electrical circuits are formed on base materials from bonding thin, soft insulating base films with copper foil or other conductive metals.
Toray has already completed the technology for the new film on a pilot basis, and looks to have a mass production setup in place during fiscal 2020 that would help swiftly popularize devices in the fast-expanding 5G arena.
By taking advantage of the high thermal dimensional stability and cost-competitiveness of TORELINA, its biaxially-oriented PPS film, Toray looks to secure the adoption of its new film in the FPC market, particularly for smartphones, and thereafter cultivate diverse applications, including for vehicular usage and base stations.