According to latest data released by the China Association of Automobile Manufacturers (CAAM), in January 2020, China's automobile output and sales were 1.783 million units and 1.941 million units respectively, shrinking 33.5% and 27.0% month-on-month, and slumping 24.6% and 18.0% year-on-year.
CAAM said calendar effects resulted in fewer working days, accentuating the decrease. Due to the Spring Festival Holiday, there were only 17 working days in January, meaning 5 days fewer than the year-ago period. Besides, some companies started the holiday ahead of the national plan.
The Association also clarified that the impact of the novel coronavirus was limited because the holiday came shortly after the virus outbreak.
The decline of the passenger vehicle sector was larger than that of the overall industry. The output and sales of passenger vehicles were 1.444 million units and 1.614 million units respectively, sliding 27.6% and 20.2% year-on-year, and plunging 33.9% and 27.1% month-on-month.
Meanwhile, the output and sales of commercial vehicles were 341,000 units and 326,000 units respectively, down 31.4% and 26.7% over a month ago, and dropped 7.8% and 5.7% over a year ago.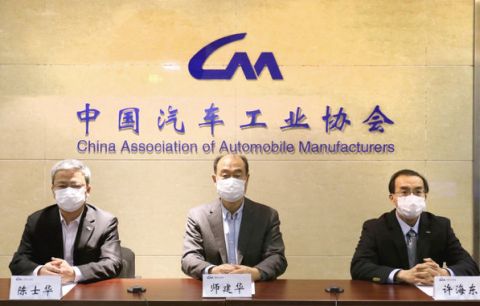 The conference of CAAM was conducted online due to the coronavirus outbreak.
The production and sales of new energy vehicles were 40,000 units and 44,000 units respectively, representing a year-on-year decrease of 55.4% and 54.4%.
Among these, the production and sales of passenger vehicles were 35,000 units and 39,000 units respectively, sliding 56.3% and 54.5% year-on-year. The production and sales of commercial vehicles were 50,000 units, down 37.4% and 51.7% respectively.
The Association pointed out that the demand and consumption capacity have been significantly decreased in the short term due to the outbreak. Besides hitting the production lines and exports, the epidemic has made SME capital access and regulatory compliance even more challenging.
CAAM expects that the suppressed consumer demand will be released in a short term after the epidemic is over, and the automotive industry will rebound accordingly. However, the market outlook of the industry is still not optimistic for this year.