Friday, 6 March 2020 marked the opening ceremony of Arburg's new Training Center at the company's headquarters in Lossburg. Measuring 13,700sqm, the new building has increased the total usable space at the company's German headquarters by just under 5%, taking it to approximately 180,000sqm.
Michael Hehl, who is responsible for Plant Development in his role as Managing Partner at Arburg, explained that the building's layout: the training area alone spans two floors, while the remaining three floors house open-plan administrative offices and the new Arburg Health Center.
"The fact that we have invested a double-digit million euro sum in a new Training Center is testament to just how important our customers and employees are to us", said Hehl. "Not only that, but it also illustrates our strong belief in Germany as a location in which to do business – and specifically how much we value Lossburg itself."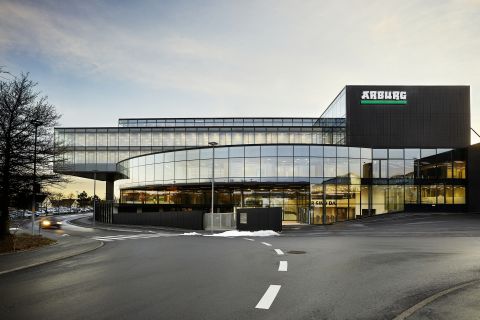 The Arburg Training Center in Lossburg is a standout building on several fronts.
Smart training equipment
With over 2,200sqm, Arburg can now offer interactive, networked learning opportunities focusing on both theory and practice in Lossburg.
The ground-floor machine hall is the heart of the training area, spanning some 1,160sqm and housing 15 electric, hybrid, hydraulic and vertical Allrounder injection molding machines in sizes 270 to 820 – including a multi-component version.
The machines chosen for the hall represent a cross-section of all the sizes and drive versions available in Arburg's product range. Each injection molding machine is equipped with a robotic system plus an IIoT gateway, and is linked to the Arburg ALS host computer system. There is also a Freeformer available for training in additive manufacturing.
While the training rooms themselves have a dedicated area on the first floor, theoretical concepts and their practical applications will be knitted more closely together in future.
To achieve this, each of the eleven training rooms is equipped with a state-of-the-art smart board and every course participant will work on their own touch screen PC with a simulated control system.
The PCs will also be networked with one another, enabling interaction, screen sharing and application sharing – making it possible to transfer the on-screen content from one computer to another and work collaboratively on the same document.
Digitalisation will take things even further, allowing data to be transferred from the training room's smart board to a smaller board on each machine. This will enable participants to work together in real time, wherever they are and no matter what device they are working on.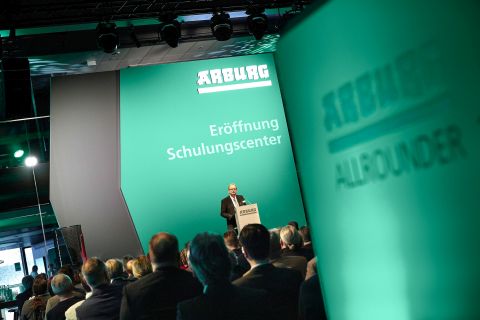 The opening ceremony of Arburg's new Training Center welcomed 170 guests at the company's headquarters in Lossburg.
Revised training initiatives
"Wir sind da." is Arburg's brand promise, meaning "We're there for you" – and the company is living up to this through not only its high-tech solutions and growing digitalisation, but also its focus on people and personal contact, particularly during after-sales support.
Since the company first launched its courses in 1969, more than 120,000 participants in Germany alone have taken advantage of the extensive range of learning opportunities. Today, the 30-strong training team organizes 650 to 700 courses for more than 3,500 customers every year, and the numbers are rising.
Aesthetic appeal, functionality and careful use of resources
As well as housing 13,700sqm of usable space, the Training Center extends to a height of no less than 31 metres. The architectural features of the new building resemble those of the Customer Center, which was inaugurated in 2009.
The Training Center's glass façade is one of the highlights of the structure, with a total glass surface (including the aluminium lining) of approximately 7,200sqm and curved panes on the ground floor.
The Training Center is also a shining example of resources and energy being used prudently. The double-glazed facade complies with the latest specifications set out in the German Energy Saving Ordinance (EnEV), and the building makes excellent use of Arburg's proven building air-conditioning concept, which harnesses low temperatures and provides a complete air-conditioning solution.
As with all the company's buildings, the Training Center collects rainwater and uses it for the sanitation facilities and watering the outdoor areas. Waste heat from production is also used to heat the courtyard spaces.