An Italian 3D printing startup designed and printed 100 life-saving respirator valves in a day for a hospital, which had 250 coronavirus patients in intensive care, in Brescia.
Each of these 3D-printed respirator valves costs less than €1 to produce, and the prototype just took three hours to design, BBC News reported.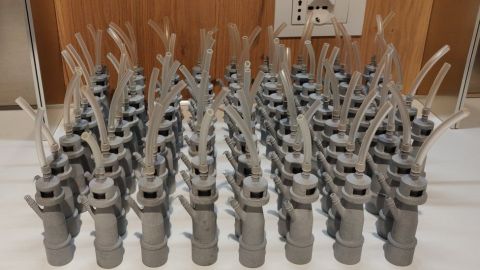 The 3D-printed respirator valves. (Photo: Isinnova)
According to a report of 3D Media Printing Network, the Brescia-based hospital urgently needed valves but the supplier could not provide them in a short time.
At last, Cristian Fracassi, Founder & CEO of 3D printing startup Isinnova, brought a 3D printer directly to the hospital, redesigned and then produced the missing piece shortly.

After the first valves were 3D printed using a filament extrusion system, on location at the hospital, more valves were later printed by another local 3D printing firm, Lonati SpA, using a polymer laser powder bed fusion process and a custom polyamide-based material.
The valves are called Venturi valves which connect oxygen masks to respirators used by coronavirus patients suffering from respiratory complications, said Reuters.