During the coronavirus (COVID-19) pandemic, 3D printing has proved it is able to play a role in helping to support industrial supply chains that are disrupted.
The 3D printing industry is even more proactively responding to the pandemic, for instance, leading 3D printing company Stratasys has several key initiatives currently underway, in collaboration with government officials, customers, partners, and the medical community.
As there is a dire shortage of shields across the US and around the world, Stratasys is rapidly scaling its efforts to print both re-usable and disposable face shields on dozens of FDM 3D printers located in Texas, California, and Minnesota.
These shields have FDM 3D printed frames, with clear, full-face plastic shielding. "Our goal is to deliver an initial 5,000 shields to critical need locations over the next week," announced Stratasys on March 21.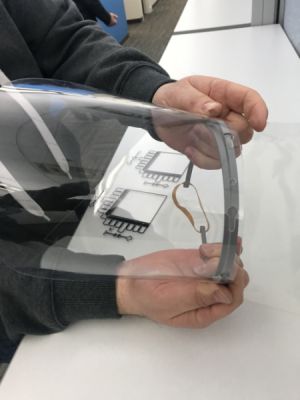 Stratasys is rapidly scaling its efforts to print face shields.
Stratasys also emphasized that it is only a start. The company is currently working to ensure an adequate supply of clear plastic material and FDM 3D printer capacity to hit these initial targets.
In addition, regarding the shortage of masks, Stratasys is exploring optimal solutions as well as working to source filtration materials.
Meanwhile, 3D printing farm Prusa Research has been working on protective gear for medical professionals which they can produce safely.
Notifying that that doctors are in great need of face shields and that there is already a great face shield design available online, Prusa Research decided to adjust it for easier and faster 3D printing.
The founder Josef Průša said on his blog post: "e.g. there should not be any supports required and we should fit as many of them onto a single print sheet as possible. So we started working on it immediately."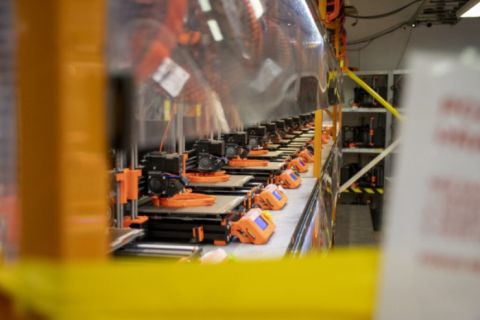 Protective shield parts being printed on Prusa Research 3D printer farm.
As said, in three days, Prusa Research was able to go through dozens of prototypes, two verifications with the Czech Ministry of Health. "We have started prototype production and the first units just went to the hospital for field testing and verification," he mentioned.
Next, Prusa Research will move to design protective goggles. With over 500 3D printers, it is able to produce 800 pieces a day, and this is not the full capacity as it is bottlenecked by laser cutter's capacity to cut the clear visors. "If we remove this bottleneck we could theoretically produce up to 4000 pieces a day," said Josef Průša.