Thermoplastics elastomers (TPE) fit the requirements for durability, food safety and aesthetic design in standard or multiuse kitchen appliances. TPEs, with its scope of properties such as heat and cold resistance, are able to withstand the rigors of daily use in a busy kitchen.
KRAIBURG TPE, a global TPE manufacturer of a wide range of TPE products and custom solutions for multiple industries, offers the THERMOLAST K series for applications in kitchen appliances.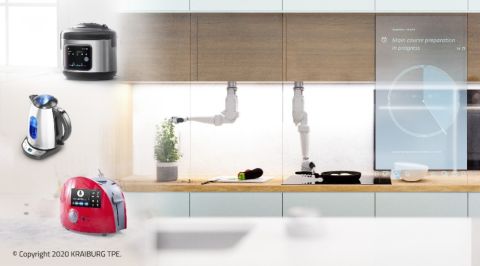 KRAIBURG TPE has a broad THERMOLAST K series range which focuses to suit kitchen appliance applications.
Solution for trendy, high-performance design
The THERMOLAST K series is applicable in stylish kitchen tools with soft touch, innovative shape and robust build, owing to its excellent mechanical properties including hardness range, elasticity, and thermal stability, as well as various coloring options available in-house.
The recommended series such as the FC/HE/tl series, which delivers excellent resilience properties, comes in translucent color that results in easy colorization. The TPE compound has possible applications in pump seal and sealing water container of coffee machine.
The FC/AP series exhibits good processing behavior and pleasant surface feel. Available in natural and translucent colors for easy coloring, the series is suitable for blender handle grip, rice cooker button, cake mixer handle, and more.
Also, KRAIBURG TPE has a broad THERMOLAST K series range, which focuses to the requirements of various kitchen appliance applications.
A key ingredient for safety
The THERMOLAST K series is recyclable; free of latex, PVC, phthalates, and bisphenol A; and there is no use of halogens and heavy metals.
It has a high thermal stability and is compliant with the global standards for food-contact safety, such as the EU Regulation No 10/2011 the Food and Drugs Administration (FDA) Code of Federal Regulations (CFR), Title 21, and the EN71/3 European safety standard.