As medical cannabis is increasingly becoming a topic of interest for doctors and society as an alternative therapy for serious diseases, Sanner has developed TabTec CR The childproof tablet and capsule container TabTec CR, they are good examples of an innovative cannabis packaging.
It features Sanner's patented Press & Flip opening mechanism, which makes it difficult for children to open, thus protecting them from the contents. It is also designed so that adults can still open and close it easily. The integrated pouring opening allows easy and hygienic removal of individual capsules or tablets.
Due to its slim shape, the container fits into any shirt or trouser pocket as required, and the innovative design also stands out from other products at the point of sale.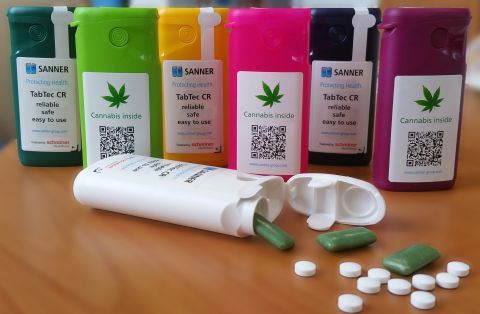 In addition to the innovative TabTec CR, Sanner offers a wide range of plastic packaging and closures for medical cannabis.
In an independent consumer test on 120 test persons in July 2019, the TabTec CR also received excellent ratings for its practical and hygienic handling.
In addition to the TabTec CR, Sanner offers a wide range of plastic packaging and closures, including various containers such as tubes or bottles, as well as a variety of press-on caps and child-resistant screw caps. Sanner as well offers desiccants integrated into the cap or packaging base.
Moreover, drop-in solutions such as the AdCap desiccant capsules or the AdPack desiccant packs ensure maximum product protection and an ideal climate in the packaging.
The desiccants Silica Gel and Molecular Sieve are also available with a combination of activated carbon to reduce odor. In addition, the cannabis packaging can be made of materials with high light protection to block the effects of harmful UV rays.
"Based on this wide range of possibilities and the most varied child protection mechanisms, we work with our customers to develop the best possible solution for their cannabis product and adapt it to their individual needs," said Ursula Hahn, Head of Product Management at Sanner.