SML begins the industrial production of PET sheet which is the main component in plastic face shields, at the headquarters in Redlham, Austria.
Production takes place on a state-of-the-art line for calendered sheets. The extrusion line produces enough material for up to 10,000 face shields per hour. The final production stage then takes place at a partner company in Freilassing, Germany.
Ongoing development work at SML has been repurposed for the production of cost-effective face shields for the personal protection of risk groups and people in critical infrastructures.
The sheets are processed into face shields at Kiefel Technologies in Freilassing, Bavaria, a partner company of SML. "Our cross-border cooperation efforts to produce these much needed face shields showcases yet again how quickly, flexibly and non-bureaucratically companies can respond to challenges," the Managing Director of SML, Karl Stöger, comments.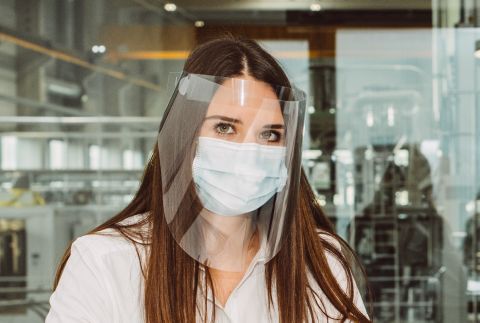 SML starts the industrial production of PET sheet for plastic face shields.
Face shields serve as an additional and comfortable form of protection, particularly for people exposed all day long to the risk of infection with Covid-19. Two types of face shields are produced - based on 0.3 mm and 0.15 mm thin PET sheet respectively.
One of the shields is equipped with a dimensionally stable, reusable plastic bow. This gives the 0.15 millimetres thin PET sheet the right structure and the thin film can be regularly exchanged. It is suitable for wearers in the retail trade or service providers.
The other shield consists entirely of a punched, 0.3 millimetre thin PET sheet. It is designed as a convenient, disposable application for frequent changes and specifically for doctors or nursing staff.
While the 0.3 millimetre PET sheet used in the disposable face shield is more or less a standard product, the production of the very thin 0.15 millimetre thick PET sheet for the face shields with bars requires specialist know-how in the field of process engineering. The relative stability and high transparency are properties both sheets have in common. These are the basic requirements for this material to be used for face shields.
The PET sheet can be recycled 100%, for example along with PET bottles and other PET products. Thus in terms of a functioning circular economy, face shields of PET are an environmentally friendly solution.