Jufico, a leading German baby food producer, will be launching its organic brand FruchtBar in fully recyclable monomaterial pouches without aluminium (Pouch5) into the German market.
Pouch5 was developed by Gualapack, world leader of premade spouted pouches, and is the first pre-made spouted pouch available in high barrier recyclable monomaterial. The 5 new references will hit the shelves from May 25.
Jufico, under the brand FruchtBar, has indeed captured the momentum and the needs of the market in terms of circular economy, spearheading the recyclable revolution with Pouch5.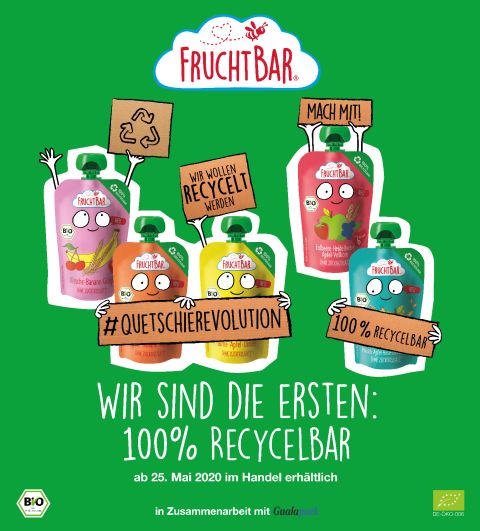 Jufico launches its organic brand FruchtBar in Pouch5 which was was developed by Gualapack.
Gualapack Pouch5 is available in 2 versions: for hot-filled and pasteurized shelf stable products, and for cold filling /dairy applications. Pouch 5 guarantees product protection equivalent to conventional pouches thanks to its high oxygen and water vapor barrier.
Pouch5 is certified by Interseroh Dienstleistungs-GmbH for its recyclability. Interseroh is an environmental service provider and is best known for its dual system with the yellow bag / yellow bin.
Interseroh's highly scientific criteria for testing a wide variety of packaging have been developed together with bifa environmental and Fraunhofer IVV institutes. With a score of 20 out of 20, Pouch5 achieves the best possible rating and is proven "very good" for recyclability.