Circulate Capital, the Singapore-based investment management company focused on advancing the circular economy, has announced that the Circulate Capital Ocean Fund (CCOF), the world's first investment fund dedicated to the ocean plastic crisis in South and Southeast Asia, has made its inaugural investments in two plastic recycling companies located in India and Indonesia for a total investment of US$6 million.
The US$106 million CCOF is backed by several of the world's leading companies, including PepsiCo which is the first investor; Procter & Gamble; Dow; Danone; CHANEL; Unilever; The Coca-Cola Company; and Chevron Phillips Chemical.
Not only do each of these investors commit capital to the solutions, they also contribute technical and procurement expertise to help the portfolio scale and drive maximum impact.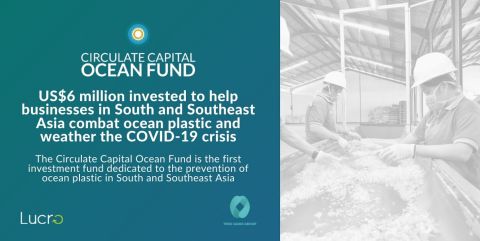 CCOF has made a total investment of US$6 million in two plastic recycling companies.
CCOF's first investments include companies at the forefront of their industries, specializing in building markets to collect and recycle local plastic waste into raw materials that can become tradable commodities:
Lucro Plastecycle Private Limited (Lucro) in Mumbai, India: a homegrown Indian manufacturer that developed an integrated process to collect, sort and recycle difficult-to-manage flexible plastic for its own production of flexible products and to sell as high-quality recycled plastic granules to manufacturers across the country; and




PT Tridi Oasis Group (Tridi Oasis) in Jakarta, Indonesia: a female-led, Indonesian company specializing in recycling PET bottles into rPET flakes, which are used to manufacture circular packaging and textiles.
The investments made by CCOF will help to build markets and circular plastic value chains that prevent plastic leakage and support local communities. In addition, Circulate Capital is supporting these companies to manage the direct consequences of the crisis on their businesses while also providing access to short-term lines of credit when possible.
"If the current health and economic crisis has taught us anything, it's that we need to future proof our local supply chains and economies," said Rob Kaplan, CEO, Circulate Capital.
Circulate Capital seeks to mobilize catalytic capital into the waste management and recycling industry to prove that investing in this sector is scalable in these countries and can generate competitive returns, while moving to solve the ocean plastic crisis.
Ujwal Desai, Co-Founder and Managing Director, Lucro, said, "We focus on films and flexible plastic that many others avoid because we believe there is inherent, untapped value that can be realized by turning plastic waste into valuable products."
Dian Kurniawati, CEO, Tridi Oasis, said, "In the current context, we are even more convinced that we can create a contribution by providing sustainable jobs and preventing pollution by turning the plastic waste on our streets and beaches into valuable products."