Enormous quantities of disposable pipette tips and cups will be needed in the coming months for Roche's new corona antibody test. Several manufacturers are relying on the performance of KraussMaffei's NETSTAL ELION series. An all-in-one system solution produces up to 230 million units per year.
The U.S. Food and Drug Administration (FDA) has recently issued an Emergency Use Authorization (EUA) for Roche's new Elecsys Anti-SARS-CoV-2 antibody test. The test is designed to help determine if a patient has been exposed to the SARS-CoV-2 virus and if the patient has developed antibodies against SARS-CoV-2.
Roche has already started shipping the new antibody test to leading laboratories globally and will ramp up production capacity to high double-digit millions per month to serve healthcare systems in countries accepting the CE mark as well as the U.S.
Disposables made of plastic produced under clean room conditions are a central element in medical diagnostics. Thus, huge quantities of plastic consumables will be needed in the coming months for the SARS-CoV-2 antibody test recently presented by Roche.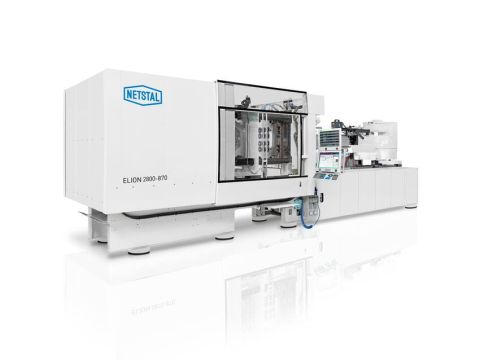 KraussMaffei's NETSTAL ELION MED injection molding machine.
These are racks which are each equipped with 84 pipette tips and reaction cups. For this application, a powerful all-in-one system solution with NETSTAL ELION injection molding machines is currently in use at several leading medical technology manufacturers, according to Wolfgang Zangerle, Head of Business Development NETSTAL at KraussMaffei HighPerformance AG.
And each of these systems is operated in a clean room and comprises three fully electric injection molding machines of the NETSTAL ELION series. The pipette tips are produced in 64 cavities on a NETSTAL ELION 1200-530, while the cups are made on a NETSTAL ELION 1750-530 equipped with a 64-cavity full hot runner mold.
These two machines feed the centrally arranged handling solution encompassing total in-line camera quality control, fully automatic cup and pipette placement and transport-ready packaging of the finished products.
The required racks are manufactured in a stack mold on an adjacent NETSTAL ELION with a clamping force of 2,200 kN and are fed into the system prior to placement.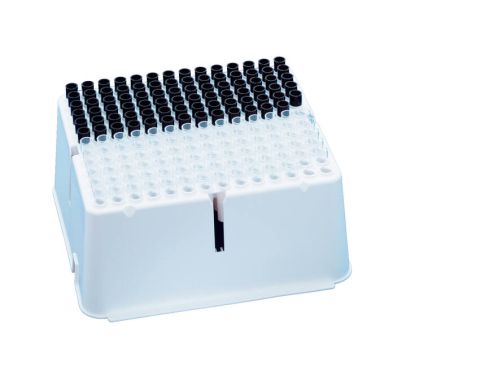 Pipette tips and cups in racks are manufactured in the clean room.
For this application the high-performance machines of the NETSTAL ELION series are equipped and certified for operation in clean rooms (ISO 8 GMP C). Also, the precise shot-to-shot consistency guarantees production within extremely tight tolerances and with minimal rejection, all this during many years and with cycle times of just a few seconds.
With a doubling of the output, the system requires only 50% of the floor space compared to previous systems also operated with NETSTAL.