The AutoGrip power clamp from Graham Engineering's American Kuhne product line reduces downtime in installations with frequent screw, breaker plate, or tooling changes. It reduces the risk of injury or burns involved in manually releasing and tightening clamps during changeovers.
The torque required in manual systems to sufficiently seal the clamp assembly is particularly dangerous with large extruder sizes. In addition, the manual clamps are typically heated to temperatures of greater than 400 °F (200 °C), increasing the risk of injury with traditional manual systems.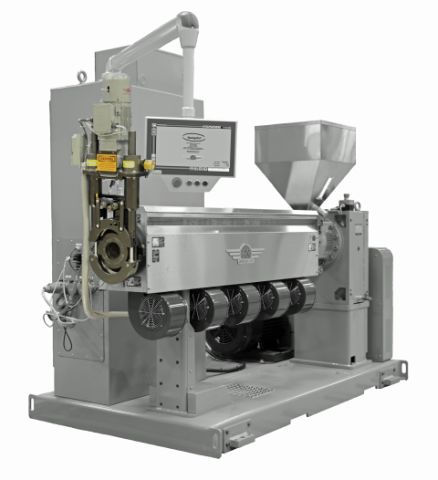 The extruder with AutoGrip Clamp in foreground.
The AutoGrip clamp is remotely controlled by a two-hand pushbutton controller for user safety and convenience. The drive motor and gear box are mounted above the clamp, protecting them from melt residue and making them easy to access for maintenance.
"Manual clamps are difficult to operate and inherently dangerous, this new automatic system from Graham Engineering speeds up changeovers and is easy to maintain," said Michael Duff, Vice President of Sales and Service for Graham Engineering Corporation.
The AutoGrip power clamp is available for extruder sizes of 3.5 in. (90 mm) through 6 in. (150 mm). In addition to applications involving new extruders, it can be retrofitted on many existing installations.