Dow and stretch film manufacturer Doxa Plast together announced the commercialization of a family of bio-based high-performance stretch films, aimed at addressing the increasing demand for more sustainable solutions, which use alternative renewable feedstocks helping to reduce carbon footprint.
Reborn, the new range of stretch films by Doxa Plast, integrates Dow's bio-based linear low-density polyethylene, ELITE 5230GC R Enhanced Polyethylene Resin, which is produced from renewable feedstock. The feedstock comes from residues of paper production from sustainably managed forests in Finland.
Unlike other alternative renewable feedstocks, it does not compete with the human food chain, and no extra land is required for its production. The films are produced in Doxa's factory in Sweden, which due to the short supply chain also contributes to reducing carbon footprint.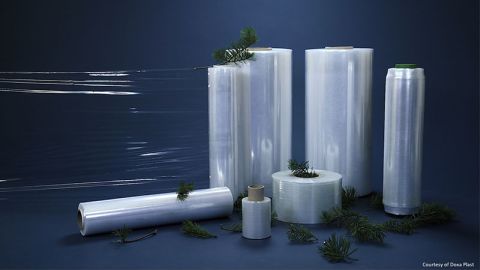 Dow and Doxa Plast join forces to deliver bio-based high-performance stretch films made with renewable resources.
"This joint effort is the latest example of Dow's ambition to work with industry partners to enable a shift to a circular economy for plastics by integrating recycled content and renewable feedstocks into production processes", said Carolina Gregorio, marketing manager at Dow Packaging & Specialty Plastics EMEA.
The new bio-based stretch film range is optimized for downgauging without compromising on functionality. Using a patented technology, Doxa Plast offers thin stretch films down to four microns of thickness, while maintaining high level performance for improved load pallet stability and reducing overall packaging material.
"Our vision for 2020 is to offer our customers the option to choose carbon neutral versions of all our products. Dow's bio-based resins are a major contributor to help us achieve this because they enable us to move towards a carbon neutral stretch film," said Sandra-Stina Vesterlund, managing director at Doxa Plast.