Reflecting its changing company culture and brand, Dow showcased collaborative, innovative and sustainable solutions at K 2019.
The company presented case studies and prototype examples across four 'domains', showing how a collaborative approach to materials science can allow us to protect precious goods, build more effectively, move more efficiently and care more holistically.
At the show, AdsaleCprj.com conducted an exclusive interview with the representatives of Dow Packaging and Specialty Plastics.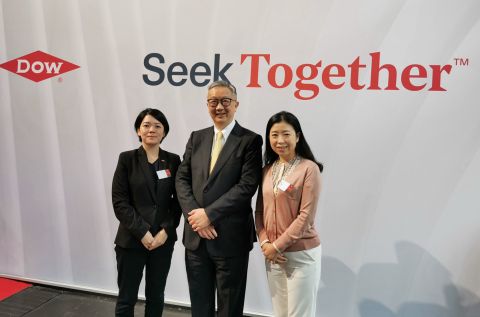 (From Left) EJ Liu, Marketing Manager for Food and Specialty Packaging, Asia Pacific, Dow Packaging and Specialty Plastics; Lawrence Cheung, Sales Director for South China, Dow Packaging and Specialty Plastics; and Xin Wang, Group Marketing and New Business Development Director for Infrastructure, Consumer and Transportation, Asia Pacific, Dow Packaging and Specialty Plastics.
CPRJ: How does Dow think about circular economy of plastics?
Dow: We believe that circular economy can run through the entire value chain of plastics, spanning across different aspects, such as chemical recycling materials, bio-based materials, recyclable packaging design and post-consumer recycled materials (PCR).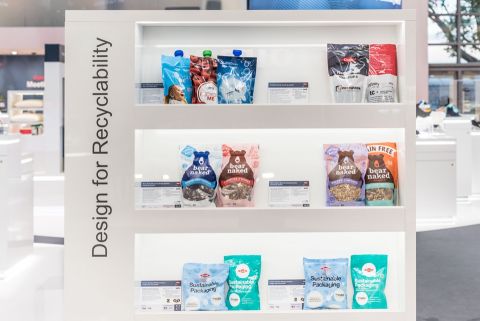 Currently, Dow is developing several chemical recycling projects with our partners. For example, we signed an agreement with the Fuenix Ecogy Group, based in Weert, The Netherlands, for the supply of pyrolysis oil feedstock, which is made from plastic waste. The polymers produced from this pyrolysis oil can be used for food packaging and medical products.
For PCR, Dow presented the development of a new resin made with 70% recycled plastic. This innovative new solution, called AGILITY CE, is the first post-consumer recycled (PCR) product offering of Dow's plastics circularity portfolio and is intended for use in collation shrink films as secondary packaging.
For innovative packaging design, Dow achieves mono-material structure through using innovating materials and recycled packaging design. For example, the biaxially stretched polyethylene (TF-BOPE) developed by Dow can meet the high requirements of packaging and can be used to replace nylon.
In addition, in collaboration with our global partners, Dow constructed new polymer modified asphalt (PMA) roads by improving them with PCR.
CPRJ: The high cost and unstable performance of PCR are the main concerns of plastic processors. How can Dow help plastic processors overcome these difficulties?
Dow: Due to the imbalance between the supply and demand, the price of high-quality PCR materials is higher than new materials.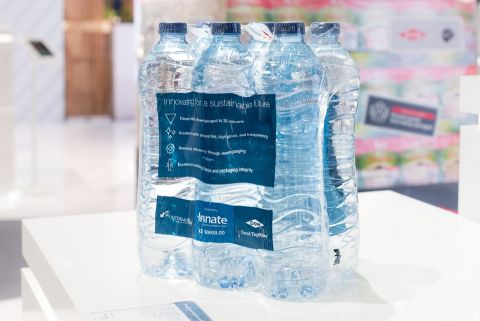 Today, brand owners and chemical raw material suppliers are willing to invest in circular economy. As long as the entire industry chain works together, the cost will be shared. The price of PCR materials is still within the acceptable range for the companies.
However, the application of PCR materials requires strong support from the government. Relevant laws and regulations are required to regulate and promote the application of PCR materials.
CPRJ: How is Dow's PCR project in China progressing?
Dow: Dow is working with different Chinese vendors that provide recyclable solutions. We accelerate the development of new packaging innovation through the collaboration with our partners at Pack Studios Shanghai.
In addition, we help our partners to establish a system to monitor the performance of end products. We also recommend the solutions and the application of PCR materials to the brand owners to help them to achieve sustainable development goals.
CPRJ: Is plastic ban a challenge or an opportunity for flexible packaging?
Dow: The main problem is not the plastic itself but the plastic waste. Plastic has caused a series of negative effects when it enters the environment. In view of this, Dow is promoting the application of reusable materials in packaging.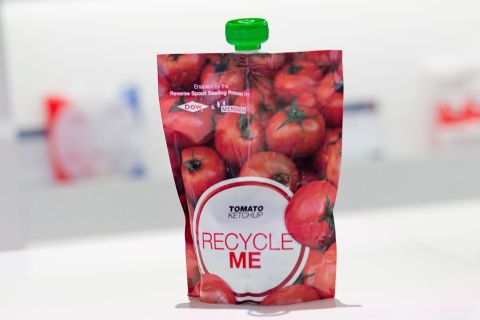 For example, the innovative Enhanced Expanded Polyethylene (EPE) foam solution by Dow delivers high level of cushion performance and abuse resistance and is based on ELITE Enhanced Polyethylene Resin and DOW LDPE polyethylene (PE) resins.
The solution significantly reduces consumption of raw materials for unit packaging by 10-15%, and reduces the thickness and weight of packaging materials.
CPRJ: What are the market trends of food packaging in China?
Dow: The Chinese food packaging market is now upgrading due to the changes of young people's lifestyles. These changes drive the need for new packaging formats.In the future, the packaging needs to be easy to use and durable to withstand harsh logistics conditions.
In addition, small packaging is becoming more and more popular. Small packaging means that packaging processors have to speed up the production to ensure profitability. For example, in the past, the machine produce 300 bags per minute. Now, it has to produce 600 bags per minute.
Small packaging also has stricter requirements on the barrier properties and oxygen permeability of the packaging materials. The materials have to be easy to tear and convenient to use. Taking a yogurt drinks bottle of a well-known brand as an example, the sealing film of the bottle mouth, which is made with Dow's APPEELTM peelable materials, enables good seal and is easy to open.
Multi-layer packaging is also the main trend of food packaging. PE film has increased from 3 layers to 5 layers, 7 layers and even 9 layers. Multi-layer packaging means more powerful functions, such as enhanced stiffness, appealing appearance, high gloss, high barrier, etc. In these aspects, Dow has a broad range of packaging solutions for our customers.
CPRJ: Which application segment will have higher growth potential in China?
Dow: Almost all the segments will be growing. The outlook of Chinese packaging market is very promising. We are very optimistic about China's packaging market.