INEOS announced that it has started delivering a million bottles of hand sanitiser a month to NHS hospitals across the UK. This major initiative has brought together INEOS and its teams in a race against the clock.
The project brought together the manufacturing and enterprise of INEOS led by Sir Jim Ratcliffe and the racing team logistics led by Sir Dave Brailsford, the Team Principal of Team INEOS.
INEOS had brought its production plant at Newton Aycliffe in Teesside online in just ten days and deliveries started immediately afterwards. The similar setup has also been repeated in Herne Germany and Lavera in France, and the fourth facility in North East France at Étain was also announced.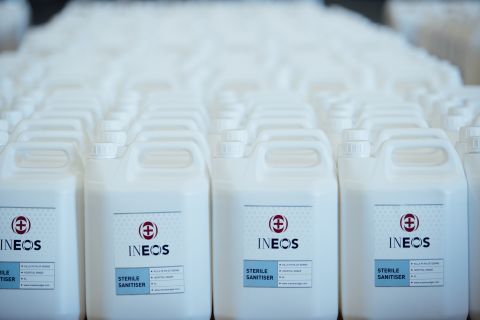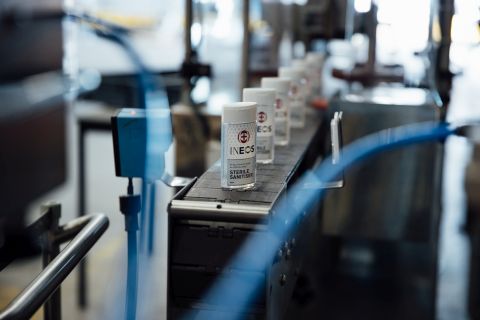 INEOS' production plant at Newton Aycliffe has started delivering hand sanitizers.
Working closely with NHS Trusts, INEOS hand sanitisers were delivered to 28 hospitals across the UK including Grangemouth, Halton, Teesside, Derby and London. Wider distribution will follow as the plant reaches full capacity.
INEOS is first focusing on meeting the needs of front line medical and care services before making "pocket bottle" hand sanitisers available for people's personal use. These will all be produced to World Health Organisation specifications.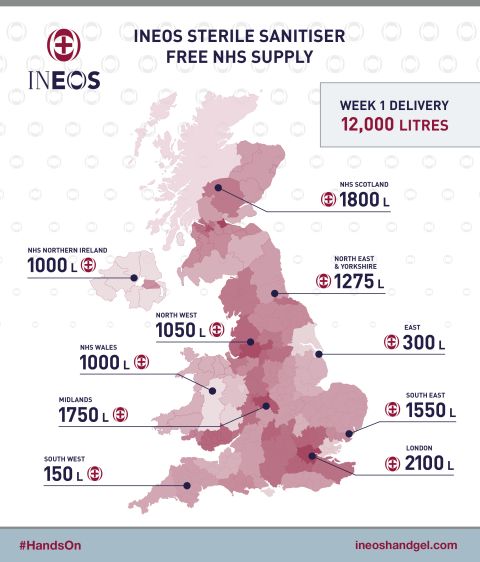 Up to a million bottles of INEOS new hand sanitiser have started being delivered to NHS hospitals.
Sir Dave Brailsford, Team Principal, Team INEOS, says, "The British government asked industry to help and INEOS was proud to answer the call. Team INEOS is used to moving at speed but ten days from start to finish for three plants already was incredibly tight. We are all in this together and I am grateful to everyone in the entire INEOS family for their hands-on approach to getting the job done."
All of INEOS nine polymer and chemical divisions are currently supplying products for the medical and pharmaceutical industries and many of them are now being used in the fight for CV19 vaccines and treatments.
Sir Jim Ratcliffe, founder and chairman of INEOS adds, "We are not only planning to produce a million bottles of hand sanitiser a month in the UK but the same again at similar facilities in Germany and France. If we can find other ways to help in the Coronavirus battle, we remain absolutely committed to playing our part".